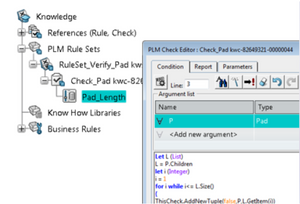 Course Code: CAT-en-KWE-F-15-181 
Discipline: Multi-Discipline Automated Engineering
Release: 3DEXPERIENCE R2019x
Duration: 4 Hours
Level: Fundamental
Description: This course will teach you how to create PLM knowledge objects in the 3DEXPERIENCE platform. You will work with PLM rules and check. You will learn how to create reusable functions using EKL. You will also learn how to store and manage the libraries of reusable functions.
Objectives: Upon completion of this course you will be able to:
- Create Rule Sets
- Create PLM Rules and Checks
- Create Reusable Functions
- Create and Manage Libraries of Reusable Functions
Prerequisites: Students attending this course should have completed the Gateway to the 3DEXPERIENCE platform course and should be familiar with the fundamentals of Enterprise Knowledge Language (EKL).  
QUESTIONS & ANSWERS
Have a Question?
Be the first to ask a question about this.
Ask a Question