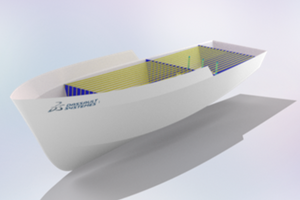 Course Code: CAT-en-SFD-F-15-181  
Discipline: Multi-Discipline Engineering
Release: 3DEXPERIENCE R2019x
Duration: 12 Hours
Level: Fundamental
Description: This course will teach you how to create the functional design of a ship, including such features as the hull form, the main panels, stiffeners and openings. You will learn how to use the design to generate a material report and a finite element model. You will also learn how to set up and later customize resources for the design project.
Objectives: Upon completion of this course you will be able to:
- Set up the project resources
- Create a hull shell, deck and the bulkhead panels
- Place stiffeners on the panels
- Create openings and slots
- Generate a material report
- Generate a finite element model
- Generate a panel drawing
- Modify the setup by updating the resources 
Prerequisites: Students attending this course should have completed the Gateway to the 3DEXPERIENCE platform course.
QUESTIONS & ANSWERS
Have a Question?
Be the first to ask a question about this.
Ask a Question