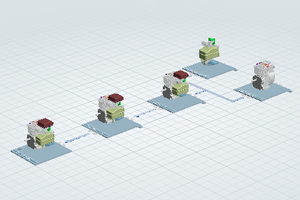 DELMIA Manufactured Item Definition Essentials
This course will teach you how to define and manage the manufactured product structure. You will also learn how to link the product components to each step of the plan using the simple drag-and-drop technique. Further, you will learn how to create catalogs and reuse a manufacturing bill of materials template.
Objectives:
Upon completion of this course you will be able to:

- Define a manufacturing bill of materials

- Reuse the manufacturing bill of materials template

- Associate the manufacturing bill of materials to a product structure using scope links

- Create assemblies and sub-assemblies

Course Code:
DEL-EN-PRD-F-15-191
Discipline:

Manufacturing Engineering

Industry:

Aerospace & Defense

,

Energy and Materials

,

High-Tech

,

Industrial Equipment

,

Life Sciences

,

Marine & Offshore

,

Transportation & Mobility

Role:

Process Planner

Version:

3D

EXPERIENCE R2019X
Duration:
6 hours
Language:

English

Level:
Fundamental
Author:
DS Portfolio
Audience:
Mechanical Designers, Process Planners
Prerequisites:
Students attending this course should have completed the Gateway to the

3D

EXPERIENCE platform course.
QUESTIONS & ANSWERS
Have a Question?
Be the first to ask a question about this.
Ask a Question